CYCLING FOR ALL, ALL THE TIME
One more country, one more successful program launch! ICI's "Cycles of Change" project in the Mara Region of Tanzania had it all. Challenges and Changes of course, but mostly successful events, and enthusiasm that exceeded our expectations. ICI's two trainers in the field, Greg and Rebeca agree that one of the best and most hopeful parts of the trip was the enthusiastic SARDO Team assembled by Archy Gomba. Baraka, Happy, Judith, and Edwin went from adaptive cycling novices to bike mechanics and incredibly engaged adaptive cycling leaders in less than a week. Very few things are as satisfying for me as the project leader than to be able to sit back at an event towards the end of a project and watch new leaders take the initiative engaging riders, assisting where needed, and problem solving breakdowns or adaptive solutions. That was exactly what was happening at our final event in Utegi.
We got people on bikes. People had fun and want to do it more. That much was obvious! We also accomplished one of our other goals which was to generate as much awareness as possible through media and local attention. The DJ's sure helped with that!  
We hadn't anticipated every event turning into a "Bike Partaaaayyyyy!", but that was what happened, which drew in tons of local observers and participants. Additionally, there was a short piece during the sports section of the nightly national news on ITV which immediately had our local partners phones buzzing.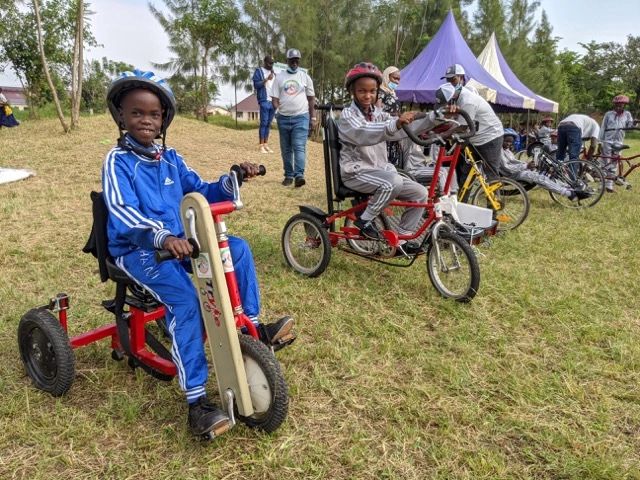 This project was funded by the US Embassy in Tanzania as a "Public Diplomacy" grant, so that coverage was also a great way for us to show potential future funders that Inclusive Cycling can generate good media exposure.
Every project has challenges as well. We were frustrated to have one of our planned event hosts cancel last minute and were unable to organize a last minute replacement; so instead of three large events and locations we only had two. This did give us more time to focus on staff training which was valuable. Also, it was educational to be reminded of the transportation challenges faced by people with disabilities in rural areas. There is NO accessible transportation available, and all transportation costs money. In order for SARDO to be able to provide future activities, they will need to find funding not just to bring the bikes to a central location; but also to subsidize the transportation of individuals with disabilities to those locations. People want to ride; but they simply can't afford to get there.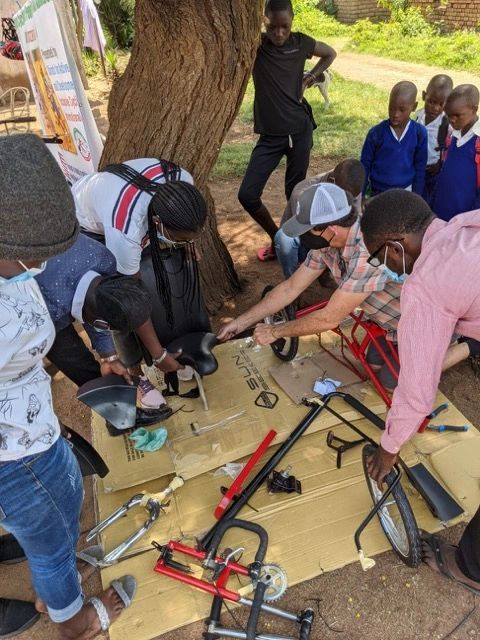 Speaking of the future, what's the plan to keep these bikes being used? Two of the bikes will be stored (and used) immediately at the local school with an Inclusion Unit that was one of the partners. There are kids there now who until this project had never propelled themselves anywhere; they've only been pushed. With these bikes, they now have the freedom to play like their peers. Every day. Archy and SARDO are exploring options for future events at the locations we visited, as well as others. We will continue to work with them to help with the fundraising for these activities. The goal, as with all our projects, is to create enough awareness of the value of inclusive cycling to inspire local funding.